Invisalign
Invisalign® clear aligners
Invisalign: Clear Aligners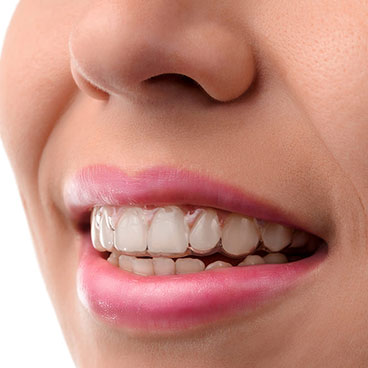 Smiley Dental Group works with patients of all ages to create straighter teeth and more confident smiles. For our patients who would like to straighten their teeth without the braces, we offer Invisalign®.
What is Invisalign®?
Invisalign® is a clear, plastic alternative to the wires and brackets characteristic of traditional orthodontic work. These smooth, custom-made appliances are designed to gently shift your teeth to the desired position with no intense tightening, serving as invisible braces.
Is Invisalign® an effective solution for my smile?
Invisalign® has become a popular dental apparatus used to fix a variety of issues that may make you feel insecure about your teeth. It provides teeth straightening by slowly moving them to the desired position. Invisalign® aligners are effective for those pre-screened and determined to have the type of crooked teeth that Invisalign® can fix. And those who actually wear their Invisalign® aligners, of course!
What is the appeal of Invisalign®?
People of all ages appreciate the discreet style and positive results that come with wearing Invisalign®. Invisalign® is most effective when worn for about 23 hours a day. Because you can remove your Invisalign® aligners, they are a popular alternative to traditional metal braces. You can take your aligner out to eat, drink, brush your teeth, and floss. And also unlike braces, Invisalign® conforms to the shape of your teeth. These clear aligners are less visibly detectable than braces, which can significantly reduce the embarrassment people of all ages feel about wearing dental apparatus.
How do I begin my journey with Invisalign®?
As the first step to Invisalign® treatment, our doctor will request a consultation with you to determine if you are a candidate for Invisalign®. We will guide some patients towards another solution if it seems Invisalign® will not solve their dental issues, such as with cases of extreme under- or overbite or teeth that are severely misaligned. If we believe Invisalign® teeth aligners will be able to help your smile, we will design an individualized treatment plan that will be developed through X-rays, images, and impressions. The full length of treatment varies, with one year being the average for adults to expect optimum results.
Is it painful wearing Invisalign® aligners?
Our patients report that there is only slight discomfort when first fitted with their new Invisalign® aligners that goes away after the first few days. Overall, they are much less painful than metal braces, which can dig into gums and the skin of the cheeks from time to time.
How do I care for my Invisalign® teeth aligners?
As part of our Invisalign® treatment protocol, patients should wear aligners throughout the day, only removing them for eating and brushing/flossing. We recommend checkups with Dr. Holowicki every six weeks. Upon completion of Invisalign® treatment, Vivera® retainers are usually suggested to maintain long-term results.
To discuss the physical and financial aspects of Invisalign®, contact Smiley Dental Group today. It just may be the key to the straight, confident smile you've always wanted.