Teeth Whitening
White. The color of a dazzling smile.
Teeth Whitening in Dublin, Ohio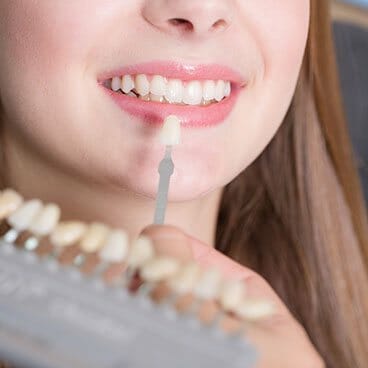 It has been said the easiest and least expensive way to look 10 years younger is to whiten your teeth. Smiley Dental Group offers two whitening systems to fit our patients' lifestyles and budget considerations to our Dublin, Ohio patients. Our staff will gladly review the differences in costs with you.
Before using either system, we recommend our patients have professional hygiene cleaning and consultation with our doctor.
Zoom! In-Office Teeth Whitening
Zoom! Whitening is the most popular in-office teeth whitening system using the latest technology to whiten your teeth at the dental office. Zoom!'s specially formulated whitening gel penetrates tooth enamel and dentin to remove stains left by coffee, tea, wine, tobacco, and medication, as well as discoloration that occurs naturally with age. This type of whitening usually makes teeth an average of eight shades lighter. It's ideal for anyone who wants immediate results and take-home whitening trays are included with Zoom Whitening®.
The Take-Home Teeth Whitening System
The take-home teeth whitening system can be used in the convenience of your home and at your own pace. Results will be attained gradually and may take one to two weeks.
What is the procedure?
Once whitening is recommended by the dentist, impressions will be taken of your teeth to create custom whitening trays that will hold the whitening gel snugly against your teeth. We will provide you with professional bleaching gel to use when needed. At your next visit, you will receive your custom whitening trays and be shown how to put the gel in the trays. You'll also be advised how long you'll need to use the whitening gel. The length of treatment is determined by the discoloration of your teeth and the desired whiteness. Patients typically see results after only a couple of applications.